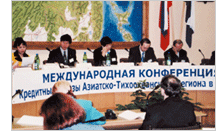 NACUFOK singed on a resolution with Inter-regional Association of Credit Unions of the Far East and Zabaikalie (Russia) on April 12, 2001 in terms of joint training program. This joint program is designed to maintain and develop partnership relations between both parties for exchange of experience and expertise, establishment of cooperation and working out annual plans of completing joint programs and further to think of a credit cooperative society as means of citizens' self-regulation contributing to development of social protection mechanism and support of small business in the Far East of Russia and in Republic of Korea.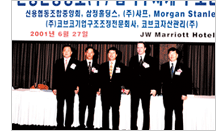 In partnership with Morgan Stanley, Kobuco Industrial Restructuring Firm, Samjeong Holdings and Sharp, NACUFOK had a signing ceremony in commemoration of its joint venture on Hansung Credit Information Service Firm on June 27, 2001. As NACUFOK emerging into Credit Information Service criteria, it enables primal credit unions to strive for sound management and further to enhance new loans accompanied with the recovery of delinquent loans in short term all supported by the collection of insolvent credits in earliest stage. Primal credit unions can relocate its human resources into other functions in order to maximize the efficiency of management while placing long term delinquency cases under the control of a Credit Information Service Firm.
In an attempt to meet the member's needs, NACUFOK joined KFTCI (Korea Financial Telecommunications & Clearing Institute) as dated of Sept 20, 2001. As a consequence of its affiliation, it enables NACUFOK to offer the overall financial network services that includes billing, CD network, joint banking network, CMS joint banking network and so on. Throughout the on-line financial network, the Billing settlement, CD Deposit/withdrawal & money transfer, On-line remittance/receipt & transfer, ARS, Web banking and Telebanking are possibly in service. By Entering into KFTCI service, NACUFOK grows out of the partial on-line services that previously relied upon the partnership with other commercial banks and thus the increment of commission fee, primal credit unions expecting to elevate their sound management backed by the diversification of earnings.
Requested by the Credit Union League of Thailand, the NACUFOK sent three mutual insurance specialists, staffs of insurance dept. to provide a variety of technical consultations for underwriting, pricing, business assessment, and promotion during Sep. 25 through 30, 2001. According to the final report submitted, the CULT was satisfied with consultation and called for continuous cooperation to institutionalize insurance business in Thailand.
Going into a Credit Card partnership with the Industrial Bank of Korea, NACUFOK offers its members with the various types of financial services alongside primal credit unions and its member credit unions as they do benefit out of the diversification of earnings supported by the secured credit card membership and cash card service. With this strategic partnership, members at their potential are highly expected to be more affiliated with their credit unions and it ensures to bring more future members driven by the downward of age bracket of credit card holders. On the occasion of this meaningful event, NACUFOK paves the way for its independent credit card business if a permission is given later in the near future.
In hopes of promising a better tomorrow for the Credit Union Movement, NACUFOK hosted the "Credit Union United Convention" nationwide which all took place separately by its four regional headquarters (Chungcheong, Joongboo, Jeju and Youngnam). Of particular aspect is the "Youngnam Credit Unions United Festival" on November 11, 2001 where 30,000 members, officers and staffs all gathered together making the event a great success.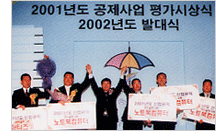 Having ended 2001 with a steady increase of mutual insurance business, NACUFOK entered into 300,000 new mutual insurance contracts at the end. Despite the progressive increase ranges from 151,000 in 1999 up to 265,000 in 2000, the attainment of 300,000 newly signed contracts is seen as a great achievement but for all those difficulties given in hand.