Organization
CU's owners are its members. As such, all business decisions and actions practiced by CU are for the benefit of the members and its structure is based on the democratic belief in maintaining members' profit and respecting members' opinions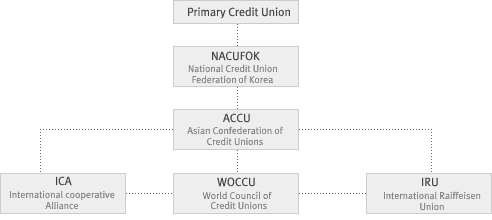 Primary Credit Union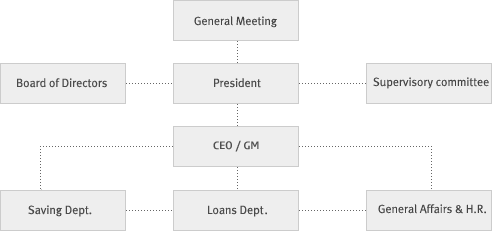 General Meeting is composed of registered members who duly paid for a share. The meeting is usually held in February and important decisions are made in this meeting.
Board of Directors consists of five to nine members, elected by and from members in a general meeting. The board has general direction and control of the policy about the business and operation of the credit union and takes responsibility for duties performed by board of directors.
President, elected from the board of directors, serves as the chairperson of the general meeting and the board of directors. He/she also supervises general operations and represents the credit union.
Supervisors consist of two to three members, all of who shall be elected by and from the CU members. They perform a periodic examination of the affairs of the credit union; property condition, accounting books, documents, etc. They also prepare and forward to the general meeting and the board of directors an examination report as required.
National Credit Union